The Tribal Advisory Council and Tribal Engagement Core (TACTEC) is a critical, and evolving part of the Center's governance structure. It consists of a diverse group of Indigenous health leaders who work alongside the Center's Executive Leadership Team to provide strategic advice about activities to promote the Centers' mission and work toward our vision. Akin to the sun within our solar system, the gravity of the TACTEC holds us together and keeps everything, from the biggest endeavors to the smallest tasks, in orbit with the Indigenous communities we serve.
Accelerating equity for Indigenous communities depends upon the uptake of international, national, state, tribal and community policies that can transform public health, while prioritizing tribal sovereignty. We are committed to studying, implementing, and advocating for policies that cross health, education, economic and social sectors to advance Indigenous equity and well-being.
We view community-based participatory research (CBPR) as a critical orientation and tool for reclaiming health with Indigenous Peoples. We partner with Indigenous communities to develop innovative, strengths-based research to address public health priorities and share our solutions with the world.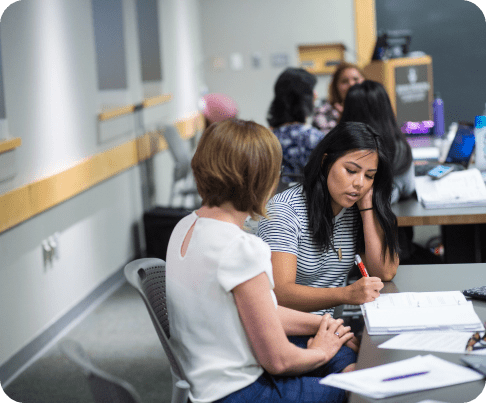 The Internal Center Advisory Board (iCAB) is a standing board which convenes the Center's Directors and Executive Leadership Team. The iCAB members constitute a cross-section of the Center's staff and faculty, with diverse skills and experiences, and is led by three co-chairs. The iCAB advises on matters that directly concern the Center's community-based programs and strategic plan. The iCAB gives voice to the Indigenous and critical ally workforce within the Center to promote our mission and vision.
The Center's Education and Training Program is dedicated to supporting current and future Indigenous health professionals in their educational and professional development. We are committed to addressing health needs in Indigenous communities, and through our programs and partnership with tribes, strive to provide the tools to strengthen from the inside out. Our faculty partner with experts in Indigenous health from around the U.S. and internationally to provide exemplary educational opportunities through the Johns Hopkins Bloomberg School of Public Health and at community-based locations.
The best research intervention findings are meaningless if they stop at peer-reviewed publications. We are committed to sharing public health practices, tools, and materials and providing technical support for Indigenous communities to adapt and implement desired, proven solutions to promote community health and well-being.